Hellooo quarentiners!!! Hope you're having a great day!!! I'm starting a new series called "Quarentine blog diaries!" I won't be posting everyday in this series, maybe once in a week or so! I love watching vlogs on YouTube, so I wanted to do it , BLOG VERSION✨✨
but before we get started, I have a couple of post's that have been lurking around in my drafts folder and I've wanted to publish them, but I couldn't find the time. So I'll be posting tomorrow and the day after as well. But I definitely WILL come up with a blogging schedule from next month. So, anyways let's get started!!!!
Today is the 25th of July, Saturday.
A couple days ago, on the 23rd of July, when it was the 10th anniversary of One direction I saw that a video was going to premiered on the OFFICIAL ONE DIRECTION CHANNEL!!! It was a special edition video called "10 years of one direction" I waited 70 whole mins and I counted down every second. The live chat was going bananas😂 it was the first time I was on time for a live stream 😜 I watched the whole video and at the end it said "we are 10 years old now" "thank you to our fans" and I was like "that's it?🤯" So… That wasn't the best live stream ever, but it was FUN! But what happened Today? I'm about to start writing that.
I woke up at 9:00 and checked my emails. Had breakfast and… every Saturday we have a stack test. So… that online test was so hard! Especially chemistry 🤯🤯🤯 I mean how can learning about electrons and molecules or whatever help me in real life?????!?!? Bio was easy. I'm pretty good in bio. But I HATE learning about plants. I fell asleep in class once😏 that lesson is sooooo boring.
Then I started to work on my BUJO. I wanted to have a bullet journal for my blogging schedule so I thought I'd start with August! My mom gave me an old journal of hers. It's super big and also, very useful. Take a look here;
So I'm just getting started. I'm not very good at drawing and calligraphy so I'm just going to stick with flowers and my own handwriting XD.
My parents went to my sistah's school [with my sis] to collect her 12th grade exam papers, so I had a bit of me time. I started writing this post that you're reading right now. [how am i so accurate? XD]
Don't mind those black lines on the screen. There's something wrong with the computer 😨
so… I think I'm gonna go listen to 1D for a while and dance like a crazy person until my mom,dad and sistah [i could've just said family lolz] come home.
i guess I'll finish writing this later. *waves bye because can't find an emoji on the computer*
5 hours later. I forgot to continue with this post!! 😦 well now I'm backkkk! yeahh 🙂 so…. after my family came back home, we had lunch and………….. well I didn't rlly do anything. around 4:15, I went out with my mom!!! i felt so happy, becuz i think it was the first time I ACTUALLY went out of the house [except for going to my grandparents house] it was also so weird. everyone were wearing masks and welll, you know. but it was so much fun!!! we went to a bakery/cafe and we had sandwiches and fries.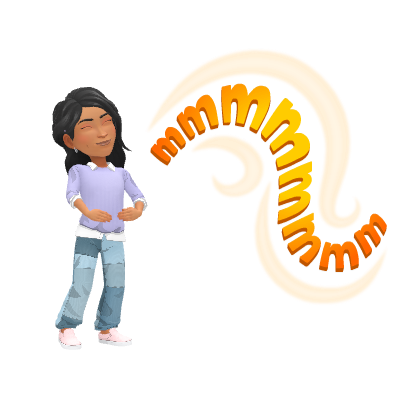 it was really really yummy! I don't have a photo of what we ate, so…… here's one from Pexels.
Then…………. we went to buy some stuff for decorating my BUJO! we got some Decorative glitter tape, a panda pen [so adorable <3] sticky notes and some number stickers for no reason at alll…………….. XD.
I think those sticky notes go with the theme of my blog. dont you think?
We also got a choco-oreo milkshake to go. it stained my T-shirt and pants. 😦 sad.
every night before going to bed, my mom and I watch an episode of this amazing series called "just add magic" on amazon prime. you should def watch it! there are 6 seasons and it's a mystery , fantasy, funny, show!
I think that's good for this blog-vlog. I'll see you tomorrow with a 4-in-one-award-post!!!!!!!!!!!!!